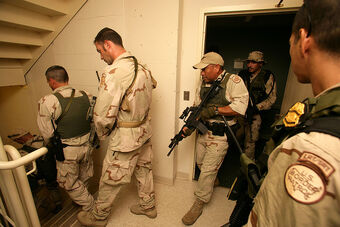 Border Patrol Tactical Unit is a emergency tactical unit of the Border Patrol. Their job is to respond to terrorist threats anywhere in the world to protect our nations homeland. They also work much with the DEA to work in the war on drugs.
Mission and Jobs
Edit
Their mission is to protect the nation by suppressing any terrorist threats they get assigned to by Homeland security. Also they are involed with the war on drugs and smuggling especially on the border, and they work closely with the Drug Enforcment Agency.
Their uniforms are usually desert camoflauge military suits, OG-107 with kevlar bullet proof vests and pads. They are also issued issued with ballistic helmets or tan caps along with tactical gogles for eye protection, plus military style boots. Their flight suit are sage green jumpsuits with usual procedure gear.
The following weapons are used by this division:
S&W .40
P2000
Remington 700
UMP45
M4 Carbine
M4A1 Carbine
SSG
M40
M76 Grenadier
M203 Grenadier
37mm Gas Gun
All AT Vehicles and Cruisers
Armored Truck
RBS Defender
All UAVs
All Helicopters
Training Neccesary
Edit
The following tasks are necessary to complete training for the BORTAC squad:
Minimum of three years in the BP service
Have to pass 90% of physical training
Pass an oral interview
Succsesfully complete BORTAC course
First Aid and CPR
K-9 Traning
Tactical Training
Be able to deploy whenever needed
Make a proper application
Also completion of the five week training course is necessary to become a member. Your screening process needs to be complete to make sure all of your documents are offical and requirments are met to join this elite group.
Operations
Edit
Operation Snowcap
Operation Reunion
Operations involving Counter Neurotics
Tacticial Relief Operations: Katrina, Haiti Earthquake, etc.
Base of Operations
Edit
The BORTAC unit travels around the world most of the time but while waiting for deployment hey are stationed at Biggs Army Airfield in El Paso.